Posts for tag: oral hygiene
By Mary V. Jaffarian, DMD
April 13, 2019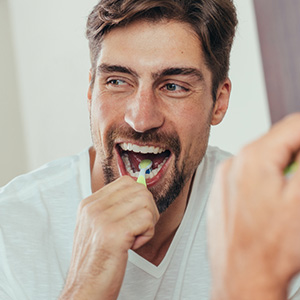 Today's dental restorations are truly amazing. Not only are they life-like and functional, they can endure for many years a hostile environment of bacteria, acid and heavy biting forces.
Even so, you'll still need to take care of your restorations to help them last. Here's how to extend the life of 3 common forms of dental work.
Fillings. We use fillings, both metal amalgam and tooth-colored materials, to repair holes or cavities in teeth caused by tooth decay. Although strong, dental fillings can break if you subject them to abnormally high biting force (like chewing ice). There's also a chance that if a slight separation occurs between the filling and tooth, bacteria can take up residence and reignite the decay process. To prevent this, practice a daily regimen of oral hygiene to clean away bacterial plaque—and reduce sugar in your diet, a prime food source for bacteria.
Veneers. Usually made of thin porcelain, veneers are bonded to the front of teeth to mask chips, stains, gaps or other blemishes. But although they're strong, veneers aren't immune to damage. Habits like biting nails, the aforementioned ice chewing or unconsciously grinding your teeth could cause a chipped veneer. And if periodontal (gum) disease causes your gums to recede, the exposed part of the tooth may look noticeably darker than the veneer. To protect your veneers and their appearance, avoid habits like ice chewing, and seek treatment for teeth grinding and dental disease.
Bridgework. Bridges are used to replace one or more missing teeth. Traditional bridges use the natural teeth on either side of the gap to support the bridge; for a single missing tooth, implants are a preferable option because they don't require permanently altering the neighboring teeth to support it. With either option, though, you should brush and floss around the restoration to reduce the risk of dental disease. Infections like gum disease or tooth decay could eventually weaken the bridge's supporting teeth or gum disease can damage an implant's gum and bone support.
With any dental restoration, be sure to practice daily oral hygiene, eat a nutritious, low-sugar diet, and see your dentist regularly for cleanings and checkups. Taking care of your dental work will help it take care of you for a long time to come.
If you would like more information on maintaining your dental restorations, please contact us or schedule an appointment for a consultation.
By Mary V. Jaffarian, DMD
March 14, 2019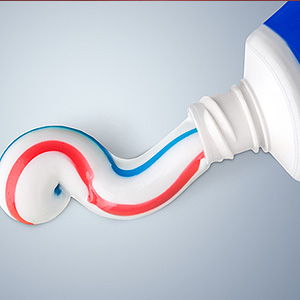 Human beings have known for millennia the importance of keeping teeth clean. Although we've only come to more fully understand dental plaque's role in dental disease in the last century, our ancestors seemed to know instinctively this gritty biofilm on teeth had to go.
People from the past once used a variety of substances like ground oyster shells or leftover fire ashes to remove plaque from their teeth. Today, most of the world has replaced these substances with toothpaste, a mainstay of daily oral hygiene.
So, why is toothpaste better than other substances used in the ancient past? Besides the many other ingredients found in the typical tube of toothpaste, here are the top 3 that make it the ultimate tooth cleaner.
Abrasives. While your toothbrush does most of the mechanical work loosening plaque, toothpaste has ingredients called abrasives that give an added boost to your brushing action. The ideal abrasive is strong enough to remove plaque, but not enough to damage tooth enamel. If you look at your toothpaste's ingredient list, you'll probably see an abrasive like hydrated silica (made from sand), hydrated alumina, calcium carbonate or dicalcium phosphates.
Detergents. Your toothpaste's foaming action is a sign of a detergent, which helps loosen and break down non-soluble (not dissolvable with plain water) food substances. While similar to what you may use to wash your clothes or dishes, toothpaste detergents are much milder, the most common being sodium lauryl sulfate found in many cosmetic items. If you have frequent canker sores, though, sodium lauryl sulfate can cause irritation, so look for a toothpaste with a different detergent.
Fluoride. The enamel strengthening power of fluoride was one of the greatest discoveries in dental care history. Although not all toothpastes contain it, choosing one with fluoride can improve your enamel health and help protect you from tooth decay.
These and other ingredients like binders, preservatives and flavorings, all go in to make toothpaste the teeth-cleaning, disease-fighting product we've all come to depend upon. Used as part of daily oral hygiene, toothpaste can help brighten and freshen your smile, and keep your teeth and gums healthy.
If you would like more information on using the right toothpaste, please contact us or schedule an appointment for a consultation. You can also learn more about this topic by reading the Dear Doctor magazine article "Toothpaste: What's in It?"
By Mary V. Jaffarian, DMD
September 05, 2018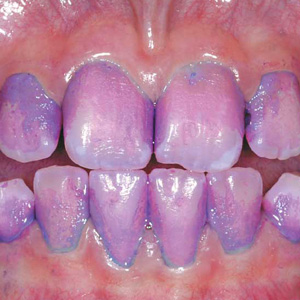 Brushing and flossing every day are important for preventing dental disease. The object is to remove as much bacterial plaque, the thin biofilm most responsible for disease, from your teeth and gums as possible.
But how do you know your hygiene efforts are that effective? You can of course do the "tongue test" â?? feel your teeth with your tongue after brushing and flossing and see if they feel smooth and "squeaky" clean. We can also give you a "report card" at your regular cleaning appointment. There is, however, a more precise way you can find out at home by using a plaque disclosing agent.
A plaque disclosing agent is a formulation that when applied to the teeth will temporarily dye any bacterial plaque present a distinct color. While dental hygienists occasionally apply them, they're also available over the counter for use at home. They're usually found in a solution, tablet or swab form in various flavors.
To use the product you first brush and floss, then swish the disclosing liquid around in your mouth for about 30 seconds before spitting it out (or chew the tablet or apply the swab as directed). The agent will react with any remaining plaque and dye it a bright color. There are even two-tone agents available that can differentiate between old and new plaque and dye them different colors.
Examining your teeth in a mirror will give you a good idea where you need to concentrate your attention when brushing and flossing. If, for example, you see dyed plaque more along the gum line and less in other places, then that's where you should focus your hygiene efforts.
While the dye will eventually wear off on its own, you should take the opportunity to brush and floss again to remove any remaining dyed plaque. Not only does this provide a more thorough cleaning at that moment, you'll also get a better sense of how "thoroughness" feels for future brushing and flossing.
It's always good to know how well you're doing with your dental hygiene efforts. A plaque disclosing agent can give you just the right feedback to help you improve.
If you would like more information on proper oral hygiene habits, please contact us or schedule an appointment for a consultation. You can also learn more about this topic by reading the Dear Doctor magazine article "Plaque Disclosing Agents."